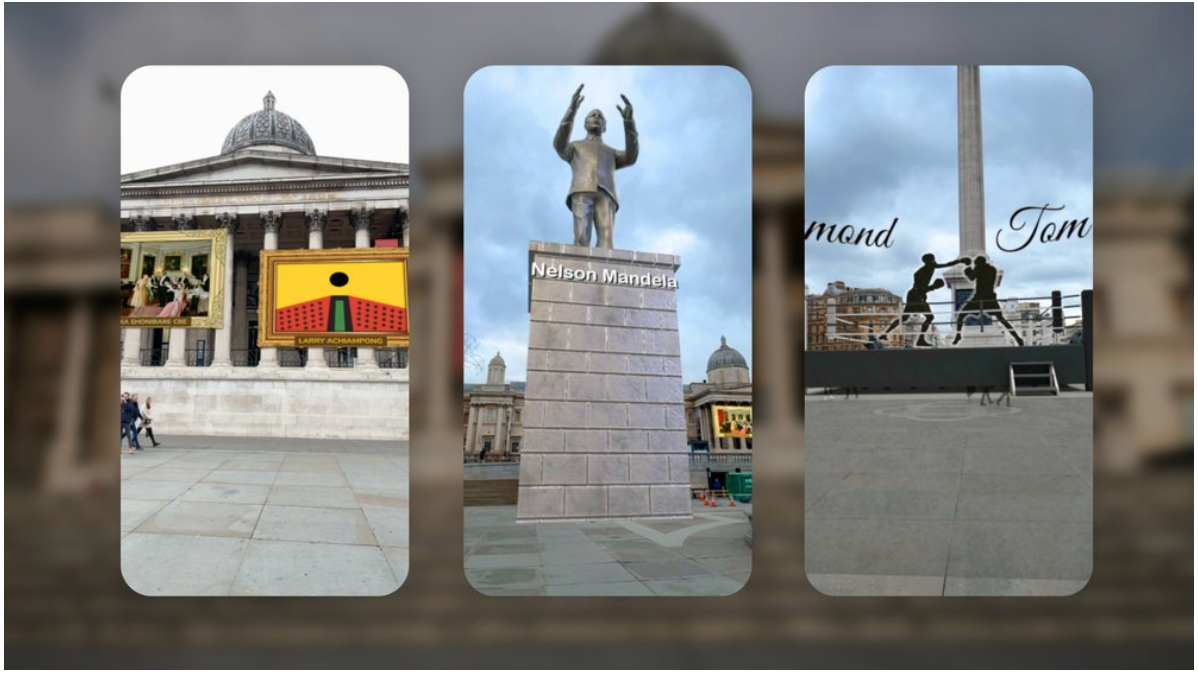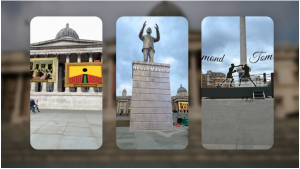 On 11th Feb, Snapchat, in partnership with Black Cultural Archives, will launch a suite of new Augmented Reality experiences to showcase hidden Black stories in London.
Launch
11th February, 12:30pm in Trafalgar Square.
On the anniversary of Nelson Mandela's release from prison, his granddaughter, Tukwini Mandela will launch the BCA x Snap partnership: Hidden Black Stories.
What are the Hidden Black Stories?
This is the second iteration of the project, the first were the Kugali lenses. Lens one was released in June 2021: Football (in partnership with Kick It Out): John Barnes MBE, Viv Anderson MBE, Eartha Pond, Rachel Yankey OBE. The remaining topics (released alongside ours) were: Healthcare (partner: Young Historians Project): Princess Omo-Oba Adenrele Ademola, Dame Elizabeth Anionwu, DBE, CBE, Princess Tsehai Selassie, Agnes Savage; Education (partner: The Black Curriculum ): Paul Gilroy, FBA, Margaret Busby, OBE, FRSL, John Edmonstone, Olivette Otele, FRHistS; Search KugaliMedia on Snapchat and finding the lenses: 'BlackBritishPlayer' (football), 'BlackBritishNurses' (healthcare) and 'Black Educators'(education).
The new lenses:
Four Black British established and up and coming artists will be hung on the National Gallery to help raise awareness and redress the fact that according to the Black Artists and Modernism National Collection Audit only 2,000 artworks in the UK's permanent art collections are by Black artists and most of them are not on display. In comparison, the National Gallery alone contains 2300+ artworks and there are 200,000 oil paintings in the UK's national collection. The artworks will be displayed alongside a curatorial note giving more detail about their work.
A boxing ring to represent Bill Richmond and Tom Molineaux, two Black boxers who lived in the 1700-1800s. Unknown to most, the gym that Bill Richmond trained out of, stood in Trafalgar Square, near Nelson's Column, and was demolished around the time the monument was erected. Tom Molineaux, an American, was his protégé.
Highlighting a Black sailor said to be George Ryan depicted on Nelson's Column, in recognition of the integral and unsung role Black sailors played in Nelson's victory at Trafalgar.
The Fourth Plinth will display a statue of the revolutionary Nelson Mandela whose powerful Make Poverty History speech, which took place in 2005 in Trafalgar Square, can be heard when viewing the Lens. Nelson Mandela's statue in Parliament Square was originally to be placed on a Fifth Plinth in Trafalgar Square, so as to symbolise the peaceful transition to a world without empires. This proposal was rejected on appeal.
Where can I access the lenses?
First, please download Snapchat for iOS or Android to explore these experiences:
To unlock the Trafalgar Square experience (Central London, WC2N 5DN), please follow the below instructions whilst in close proximity:
1. Opening the Snapchat lens carousel and following the prompts
2. Opening the Snap Map and tapping on the Black History book icon
To unlock the Mary Seacole experience, (Westminster Bridge, The Queen's Walk, London SE1 7GA), please follow the below instructions whilst in close proximity:
3. Opening the Snapchat lens carousel and following the prompts
4. Opening the Snap Map and tapping on the Mary Seacole Trust logo
How is BCA involved?
BCA has supported and advised Snap throughout the research and planning process right through to the campaign launch. Ex-MD, Arike Oke, partnered with Snap alongside other experts to assess how best to shine a much-needed spotlight on Black history. The panel:
Arike Oke – ex MD of Black Cultural Archives
Jak Beaulah – Nubian Jak Trust
Patrick Vernon – 100 Great Black Britons
Shezal Laing – Slavery Remembrance
Tony Warner – Black History Walks
Trevor Sterling – Mary Seacole Trust
The panel met in December 2020 and decided that instead of focusing on current monuments, this was an amazing opportunity to uncover hidden Black British and Black stories that are all around us.
Whilst Snap devised a range of lenses to showcase a number of hidden stories, BCA has supported Snap by advising them on the campaign launch, positioning, tone, and contacts. MD, Lisa Anderson has written op-eds, will speak and represent BCA at Snap's internal launch and the official launch.
Are there any BCA tie-ins?
Shop: https://blackculturalarchives.org/shop/statue-mary
Bookshop.org: https://uk.bookshop.org/lists/hidden-black-stories
Archives:
Nelson Mandela There are several photographs, documents, and books in the archive: PHOTOS/65, PHOTOS/84, PHOTOS/85, PHOTOS/157, AMS/2015, 920 MAN, BCA/4/2/12, BCA/5/1/64, PRESS/52
Mary Seacole: Image of Bust
Yinka Shonibare CBE ORAL/3/17 Interview with Yinka Shonibare
Bill Richmond: Image of plaque
Tom Molineaux: 920 MOL Black Ajax: Autobiography of Tom Molineaux
Who is involved in the campaign?
BCA Spokesperson: Lisa Anderson, Managing Director
Campaign management: Oteri Otobor, Marketing Manager
Social Media management: Shanice Bryce, Social Media Officer
With thanks to Ayshah Johnston (Learning and Engagement Manager), Hannah Ishmael (Collections and Research Manager) and Rhoda Boateng (Collections Assistant) for providing advice on research questions, and archive materials.
How can you help?
Download Snapchat and enjoy the lenses! Also, like, share and repost across your social channels, tagging BCA:
Please direct Press and customer enquiries to Oteri Otobor marketing@bcaheritage.org.uk