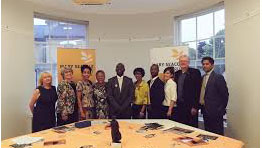 School students in years 5 and 6 are being asked to identify their modern-day Mary Seacole in a competition launched today by the Mary Seacole Trust (MST) to find Young Seacole Ambassadors.
The 2018 competition is primarily open to schools in Lambeth and Southwark, South London, but with the possibility of national roll out next year. It aims to inspire children by including them in establishing and shaping the legacy of the Jamaican/Scottish nurse who cared for soldiers fighting in the 19th century Crimean War.
MST Chair Trevor Sterling explained: 'We want young children to learn about Mary from the wealth of information on our website and then to create a piece of work that represents someone in their own life who embodies Mary's qualities of compassion, good citizenship and achievement. They can do this through a story, poem, video, song or drawing.
'Mary Seacole overcame many obstacles to reach her goals in terms of caring for the men fighting in the Crimea. Her experience as a mixed-race woman in Victorian society is as relevant today as it was 160 years ago.
'We are working with schools to ensure that as many children as possible are given the opportunity to take part. It is primarily aimed at children in Lambeth and Southwark who are closest to the statue of Mary which sits in the grounds of St Thomas' Hospital on the Southbank. However, we hope to roll this out more widely in the future.'
Participating schools will be invited to visit the new Mary Seacole-inspired installation at the Florence Nightingale Museum. Schools shortlisted will be invited to a special reception at the House of Lords in the Spring where the winners will be announced.
A fund of £500 will be made available to the successful candidates' schools. As part of the entry process, schools will need to explain how they would spend the money on a Mary Seacole initiative.
The winner of the competition will become the first Young Seacole Ambassador, part of an on-going scheme to involve children in the development of MST and the promotion of Mary's legacy for future generations.
If your school would like to take part please complete the registration form at: www.maryseacoletrust.org.uk/ysareg2017 by 16 February 2018. You will be able to download a pack containing all of the terms and conditions.