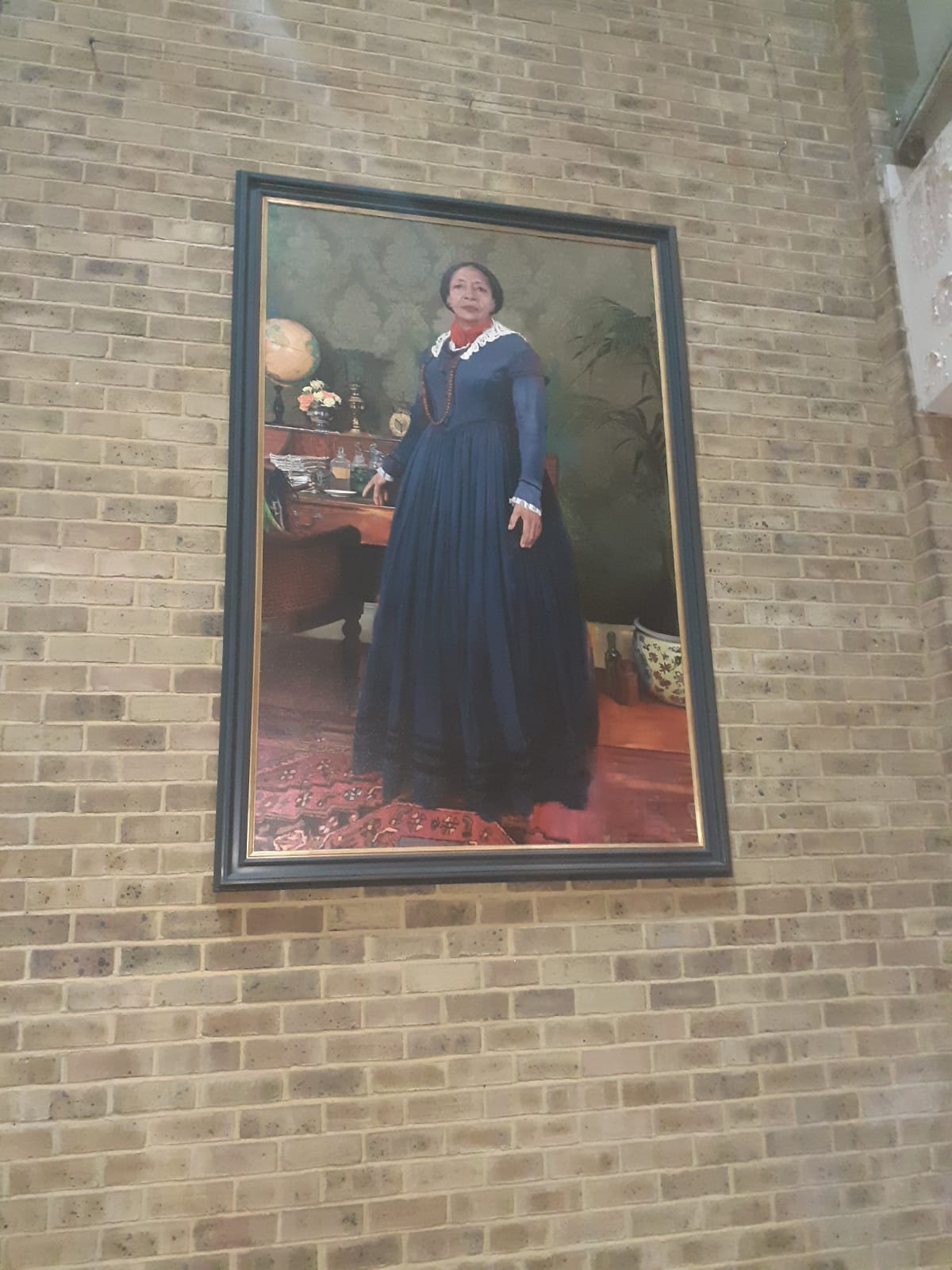 A new painting honouring the Crimean War nurse Mary Seacole was unveiled today, 23rd November 2021, at Guy's Hospital in London.
Artist Richard Wilson spent 600 hours over three months creating the 1.4 metre by 2.2 metre canvas, which depicts Mary in 1857 at her home in Soho Square in London.
Richard was commissioned by City & Docklands developers to provide a portrait of the Jamaican-born nurse as part of a wider regeneration scheme at Mary Seacole Memorial Park, just a stone's throw from Marys' grave in north west London. The Old Oak and Park Royal Development Corporation is working with City & Docklands on the project. Rather than let the artwork remain in storage, the painting is on loan to Guy's and St Thomas' NHS Foundation Trust until at least the end of 2022 when it's due to move to a permanent home at the Mitre Yard development.
Members of staff from Guy's Hospital were joined by the Mary Seacole Trust and City & Docklands to celebrate the new painting on what is believed may have been Mary's 216th birthday.
The 23rd November 2021 also marks the Proclamation by the Governor-General of Jamaica, His Excellency the Most Hon. Sir Patrick Linton Allen, as the inaugural Mary Seacole Day in Jamaica. The Proclamation urges all citizens of Jamaica to join with the Mary Seacole Foundation to observe this day in diverse ways, including laying of a wreath at the National Library of Jamaica, formerly Blundell House, Mary's birthplace. The Mary Seacole Trust will be observing the day by celebrating the unveiling of the painting at Guy's Hospital.
Avey Bhatia, Chief Nurse for Guy's and St Thomas', said: "Mary Seacole was an extraordinary individual and a great role model. Her writing, legacy and memory lives on and has touched the development of modern healthcare.
"I am delighted that we are able to host this beautiful painting by Richard Wilson at Guy's Hospital so our staff, patients and visitors can sit, reflect and be inspired by her."
Guy's and St Thomas' Charity owns, manages and cares for artwork at the Trust, and supported the professional art handling service and installation of the new painting at Guy's Hospital.
This is the second tribute to Mary on display at the Trust.
In June 2016, a statue honouring Mary was unveiled in the gardens of St Thomas' Hospital – believed to be the first statue in the UK dedicated to a named black woman. The official unveiling of sculptor Martin Jennings' work took place after 12 years of campaigning by the Mary Seacole Memorial Statue Appeal, raising more than £500,000.
Trevor Sterling, Chair of the Mary Seacole Trust, said: "We are delighted that this stunning portrait of Mary by Richard Wilson has found a fitting temporary home at Guy's Hospital. People have been enjoying Mary's statue in the grounds of St Thomas' Hospital for more than five years and so it is wonderful to be able to share Mary's portrait with staff and patients at Guy's. I would like to thank staff and management at Guy's and St Thomas' for their commitment to promoting Mary's legacy and values."
To watch artist Richard Wilson talk about his portrait of Mary Seacole, click here.