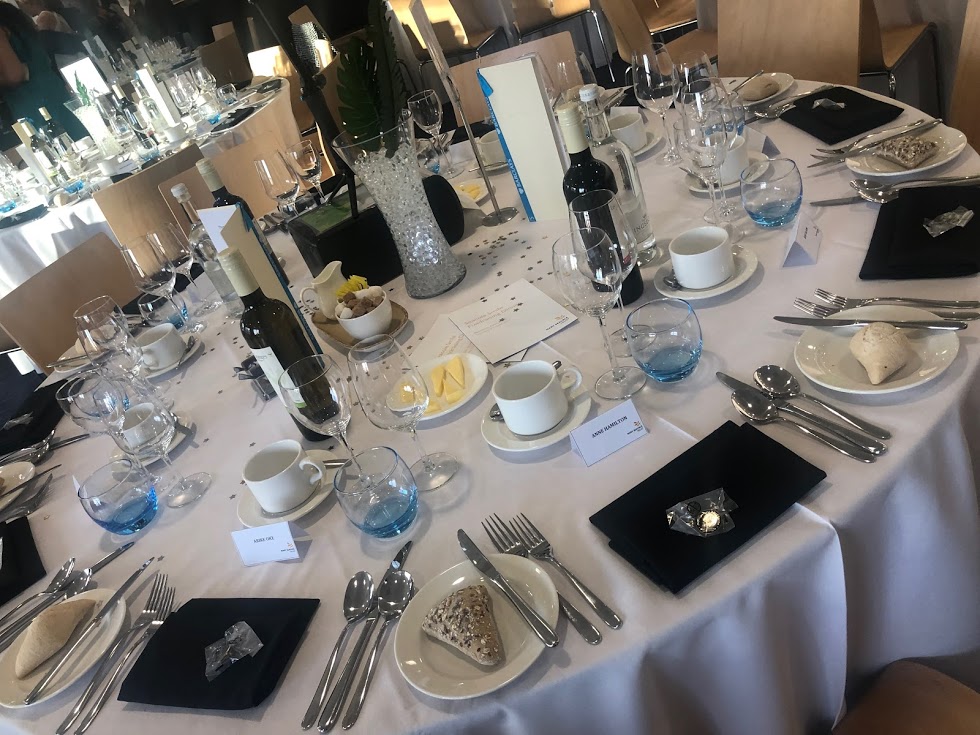 On 27th June 2019 we hosted our inaugural Seacole Smile Fundraising Dinner, marking the third anniversary of the statue unveiling.
The event was very well attended, the Trust were honored to have His Excellency, The Jamaican High Commissioner, Mr Seth George Ramocan and his wife, Dr. Lola Ramocan, in attendance.
The evening was filled with laughter and inspirational stories from one of the Trust's Patrons, Ambassadors, trustees and Guests of Honor namely; His Excellency, The High Commissioner; Mr. Seth George Ramocan and the incoming Deputy Vice President and future Law Society President Stephanie Boyce who, in 2021, will become the first ethnic minority Law Society President in history..
We were honored to have members of the Trust's Youth Advisory Committee perform a rendition of the Greatest Love of All by George Benson, a huge thank you and well done goes to our three "YACS"  Kaya Mason, Rio Sterling and Hannah Bradley.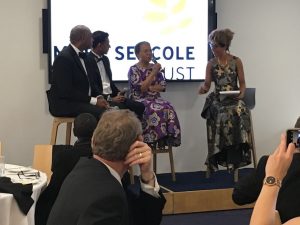 There followed an "In Conversation" led by trustee Karen Bonner, with Dame Elizabeth Anionwu (Patron), Dr. Habib Naqvi (Ambassador) and Mr. Martin Griffiths (Ambassador) on their roles in the community and why the Mary Seacole trust and her  legacy is important to them.
Entertainment followed with Charlotte Shaw, an opera singer from the English National Opera, performing eloquently, captivating the audience with sheer emotion and grace.
MST Chair; Trevor Sterling, held a further "In Conversation" with Stephanie Boyce who inspired the audience with her passion and determination to create a diverse legal professional accessible by all. She was commended by Trevor for her determination and commitment emulating Mary Seacole's qualities and of course for making history, which earned her a standing ovation!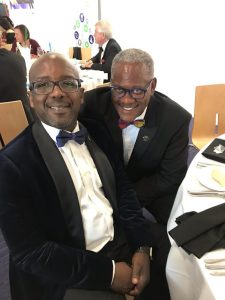 Our very own wonderful and entertaining Seacole Smile Compere, Miles Crawford, took to the floor conducting the auction and raffle, drumming up excitement, resulting in large bids being made – all proceeds will aid raising the profile of the Mary Seacole Trust and support the Mary Seacole legacy projects.
The evening was then closed by MST Vice Chair Lisa Rodrigues CBE, bringing the spectacular evening to a close.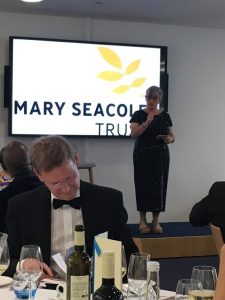 The Mary Seacole Trust would like to say a huge thank you to all who attended for their contributions and support. A massive thank you to our headline sponsors Premier Medical, No5 Barristers' Chambers and Barclays Wealth who provided the stunning venue – the event would not have been what it was without the sponsors' support and generosity.
Trevor Sterling, Chair of the Mary Seacole Trust said: 'Fundraising nights such as this are important, not only to raise funds to continue the trust's work, but also to ensure that Mary's recently restored place in history is maintained. Our aim is to celebrate Mary's life and to promote a legacy of inspiration and social equality. As a trust, we are overwhelmed by the continued public support and are grateful for the dedication of our trustees, volunteers and patrons. We are incredibly proud of our work and hope we will have made Seacole Smile!
Pictures will be on the website shortly.